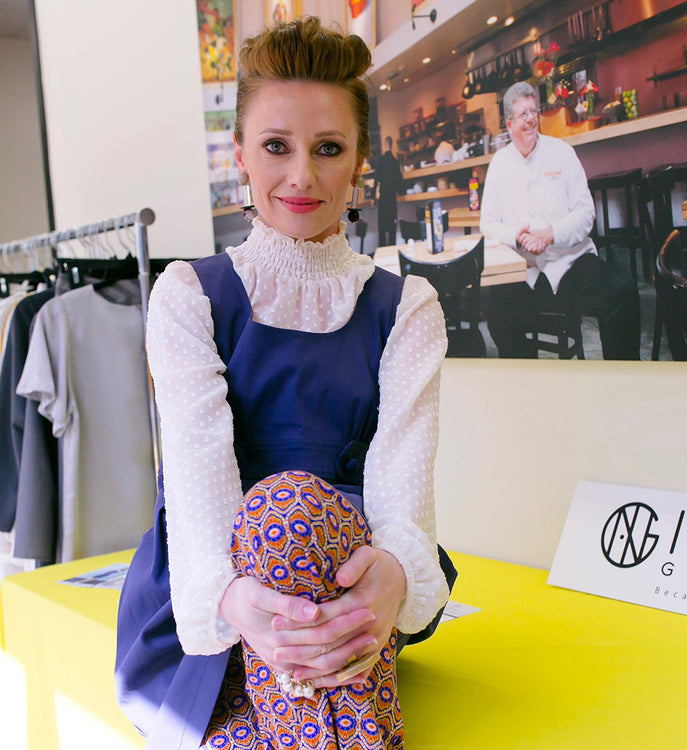 INGA GOODMAN. Meet the designer behind the brand.
Everyone has a story. Here is mine.
Born and raised in the small town of Smolensk, Russia during the Communist era when the demand for goods exceeded the supply, I witnessed a lack of diversity in everything, especially in the way people were dressed. The majority of men wore the same color coats and boots reminiscent of the uniforms produced at the local factory. 
Styling paper dolls and designing dolls' clothes were my favorite activities while my parents spent long hours at work.
Only years later when Burda magazine became available on the market, is when I began sewing my own clothes at home, and hats were my most favorite pieces to sew and wear.
In high school I remember being glued to the TV whenever the news broadcasted an episode from a world runway fashion show, which always sparked long discussions afterwards with my mom, Valentina, who was a known fashionista and and my influencer in many ways. Both of us dreamed that one day we would be able to own countless pairs of heels in every color because my mom truly believed that there was no such thing as too many pairs of shoes.
Due to their Russian historic backgrounds, many famous Russian designers like Valentin Udashkin and Vyacheslav Zaitsev (famous for painting on telogreyka, Red Army uniform, and valenki) started their careers with a manifesto, and so did I.
With my first collection I really wanted to convey the message to women everywhere that we don't all have to look ubiquitous, and that our clothes need to have a personality, just like we do. Styling and dressing up are truly a part of who you are, and wearing beautiful clothes which reflect your style should make you happier than simply following the current fashion trend.
I am very happy with the way my first collection turned out, and I will continue guiding women with style, because style matters!
Fashionably yours, Inga.