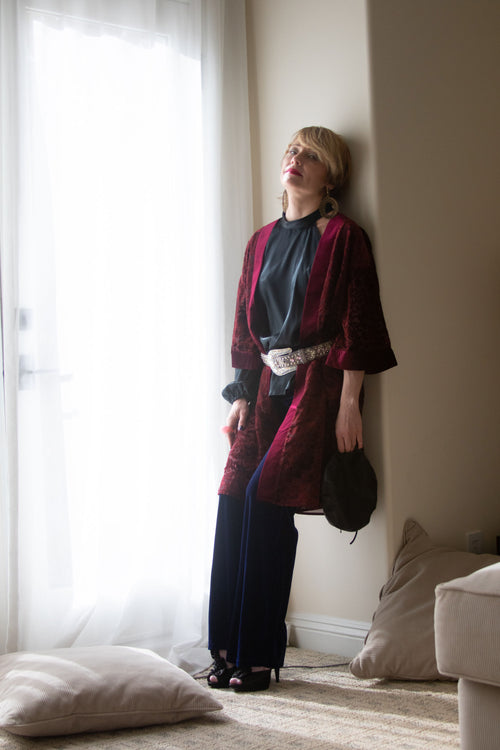 COVID-19 Quarantine Survival. How to Elevate Your Spirits and Beat the Pandemic. Ideas from a Fashion Designer Working from Home.
     Hello there! 
     Want to FaceTime me?
     It's already been over two weeks since I've been out of my house, spending my time in captivity and not socializing freely due to the spread of the coronavirus. Home imprisonment definitely takes its toll, and the troubling news coming every 15 minutes tops off already high levels of anxiety and worry around here.  
     Humans are funny that way, we are of free spirit and are capable of enjoying activities we willingly choose very much, but not so much the ones we are commadeded to do. There is a huge, and I mean HUUUUGE, difference between "You can't leave your house, stay put!" and "It's OK not to come to the office tomorrow, take some time off."
     Since day one of my house arrest I've had my ups and down alright. I'm a fashion designer, and my runs to the fashion district in downtown, Los Angeles have been quite common for me, as are visiting fabric supplies and stores, fashion boutiques and shows, new exhibits in town, as well as meeting old friends and new friends, while checking out new cafes and vintage stores in town, getting my hair changed regularly and conducting new photoshoots. The list of activities typical to my lifestyle also included going to concert venues with my hubby at night, as well as to the art movie houses and theaters. I'd be the first one in town to go to an Ice Cream Museum with my ten year old just to try a three layer matcha souffle pancake, etc. (you get the idea)
     I just couldn't stay still, I am way too excited about life including everyone and everything around me, not to mention dressing up daily and coming up with new style ideas, while getting ready to leave my place was like a second nature to me and a trait I am well known for.
     Yeah, transitioning has been hard...I spent the first few days telling myself "they can't lock up designers! Designers must remain free, it's their nature and a required condition for them to thrive and create!" (Lol!)
     Another challenge I faced due to social distancing was going through a series of withdrawals from my favorites - numerous spice tea lattes and matcha tea lattes, etc. a day mixed with cravings for banana muffins and honey raisin bran muffins, and mushroom casserole dishes and even meat burgers, all the things my life never depended on because I am a vegan on a carb free, diary free diet to begin with. Was it all because I've imagined a scarce food supply world wide from now, or a reverse psychology effect; when your least favorite food is popcorn, and a doctor tells you that it's dangerous for your health - all of a sudden popcorn is the one and only food you want to eat from from now on. I guess the same psychological rule worked on me, when I've been told I was no longer free to go around and consumed what I wanted freely.
     Then my son's school closed, and so did my husband'l office. No more weekend plans, playdates, enrichment classes, sport matches, music classes, or tutors' lessons. I came to the realization that the schedule  I had adopted a long time ago no longer worked. All of a sudden I was no longer free to proceed with my work plans and personal intentions in the usual manner because I constantly had to pay attention to my family. Everything was weird and felt strange. SNAFU! I really had to shift gears and find the way to balance and look for ideas to make everyone happy. I had to use my CREATIVITY.
    And it doesn't relate just to me. Women's Facebook posts, asking for a drink by noon, TV talks, my customers' emails, my friends' texts, my spouse being overly excited, my son asking for Nintendo Switch on only the third day of homeschooling, everything implied that we all were in trouble, and we needed ideas to survive that chaos. It's been like facing not just one epidemic, but many: a public epidemic of Apocalypse fear, panicking, going "bananas" (not to say "crazy") or getting depressed. By the end of this difficult week, I managed to come up with some ideas of what to do for moms, kids, for moms with kids and entire families, as well as how to maintain a balance emotionally for each persona and not deteriorate morally and physically while social distancing is in place. I've figured we all need a plan, and "Get busy and stay busy" approach is my plan's main core.
YOU
     It's already a well known fact that you can't take good care of your loved ones and perform your work well unless you feel good yourself. There are many factors that influence your emotional being, but if you address basic needs like self care, looks, exercise, brain stimulation, goal accomplishment, personal discipline, and creative need, you'll be in good shape. And remember educating your kids is not about telling them what to do, but demonstrating what's right by your own example.
SELF CARE
     First of all, everyone needs to hear this!
Go wash your hair
Change out of your pajamas
Wear a bra
Put your makeup on
Put on your favorite earrings and ...
     It's all about a mind set, a mental shift if you will. Starting your day right is the key, It sets the tone, structure, and discipline especially if you are home schooling your kids and also work from home these days.
     Do things in the right order. Don't drag your computer to bed right after you wake up and sit there till you can no longer tolerate the hunger. Better to start your morning with a homemade meal, shower, and clean clothes. Dedicate some time to yourself first. If you are a bath lover - why not to treat yourself since there is no need to pack lunch boxes and rush out to school or the office? It could be a good time to pay attention to your skin and use up all those bottles and jars of facial masks and creams, body lotions and scrubs that've been sitting in your bathroom drawers for ages.
     Wash your hair and wear it up, avoid messy hair, remember a bad hair day can threaten your mood. I'd recommend some light makeup and a piece of jewelry if it cheers you up. If you don't look well put together, it not only affects your mood negatively, but it also affects the mood of your loved ones and sends the wrong kind of message to your kids.
Pinterest Long Hair Styling Ideas over 400 pins
     Many behavioral specialists recommend that kids wear their school uniforms while home studying, and their parents get dressed as if they are going to the office too while they are working from home. As a designer I'm convinced that the clothes you wear noticeably affect your mood. To get into a work mode at home no need to wear a business suit and heels around the house (unless you want to), but changing our of your pajamas and robes into a "Casual Friday" type of attire might help to set a great tone for the day.
  WORK
      Why work?
      Sure enough, to get paid; but if you asked people who are really engaged with their work, monetary reasons never come up. There are many other benefits that make work SUPER important to humans' well-being and their mental health.
     Work is stimulating, yet satisfying to humans because it's challenging. It forces you go outside your comfort zone and face struggles and experience "fun" similar to as if your were challenged by a puzzle or crossword game.
     People also are motivated to work because it makes them feel in charge and like an expert. While they work their knowledge and skills expand, which helps them grow both professionally and personally.
     Work is an opportunity for social engagement. As people get their work tasks done, they are involved in team work; and it makes them feel that they are not alone, and also that they "belong".
    Work gives meaning to people's life. It offers us a chance to make a difference in the world and be useful and IMPORTANT to others.
Source:
Quartz Why work? a psychologist explains the deeper meaning of your daily grind
                                         GOALS AND PLAN OF ATTACK
    Think of all your work responsibilities or things that you want to do, whether related to work, your home or personal life. If it's time off of your work, maybe reading every single book in your library, organizing your house, finally de-cluttering your garage, or clearing out your closet and starting a blog have been on your mind for a long time! Great and now is the time, while you don't spend a big portion of your day time driving your kiddos to school and after school activities, commuting to work and shopping. Don't feel intimidated because any big project can be broken into small daily tasks and be done little by little. Do the same exercise for your child (children).
     As you go through your mental list, write all of your ideas down on paper, then prioritize and create a schedule/plan accordingly with a written list of daily goals and plan of action with assigned time frames for each one, and stick to it! Designate a wake up time, bed time, work time including time for breaks and meals (your brain works more productivity, when you pause for a bit between the activities, so does your memory), exercise, and learning something new for pleasure or on purpose, as well as fun time, meal prep time, snacks, dinner and play, because humans and especially kids do better with structure, and when there is a strict plan, you know exactly where you are going and most likely will get stuff done. Allow your munchkins some independent time. Without your supervision they can do more than you think. Use that time to get your work done, texting your girlfriend, sipping coffee or browsing the news channels till after work.
                                                 REGULAR EXERCISE
       Exercising is another good component of  a path to a balanced and more healthy life physically and mentally. "There is a direct link between exercise and happiness. Exercise has been shown to improve the sleep patterns of insomniacs, strengthen our immune system, boost our natural production of endorphins, as well as lower anxiety. Studies on rats indicate that exercise mimics the effects of antidepressants on the brain. Exercise is also responsible for the creation of new brain cells in the part of the brain responsible for learning and memory."
sources:
American Academy of Sleep Medicine Exercise and Happiness
Science. How Stuff Works Link Between Exercise and Happiness
     "In addition to increased energy, physically active people may feel a sense of accomplishment in meeting personal fitness goals. Also, they may feel proud of the improved physical appearance that those hours working out have produced. And getting outdoors on a nice day, or even working out indoors stimulates the mind and shakes up what may be for some people an otherwise monotonous daily existence."
     Scientists point out that as little as seven minutes a day of working out is enough to achieve good results and be able to fight melancholy whether you do it right in a morning or some other time during the day.
     Now, when public fitness clubs are closed I've been looking for online courses one can take to exercise at home perhaps as a whole family. And it's also a good time to try new routines and approachs to exercising, like yoga or pilates. Scientists claim that seven minutes a day is a good amount to elevate your mood levels. Here are some suggestions that I like:
Pinterest 7 Minutes Work Out
Pilates Any Time Practice Pilates online, anytime
Pilatesology True to the source Pilates classes online, including classes by teachers who learned from Joe Pilates himself, no equipment necessary
Very Well Fit Best of 2020 online yoga courses
Very Well Fit 15 minutes daily Pilates exercises at home
     LEARN DAILY
     Learning something new daily feels good. Learning boosts your self confidence and expands new horizons. New knowledge helps you feel good about yourself and brings up your self esteem!  Have you ever wondered how to blog, or start your own podcast, how to shoot your own video on YouTube or Instagram? Now it's a good time to learn. You can also improve your vocabulary and memorize a new word a day or start learning a new language. You can learn how to cook from scratch and create your own French soup, for instance, or Ras Malai. Learn how to cross stitch or grow a pineapple of your own. Learn the biography of your favorite artist or a fashion designer. Learn how to start a business or tour world museums online. Learn how fabrics are made or how rice is being harvested. Learn how to Photoshop or paint, for example. Learn about birds in your state or market volatility. The list of ideas is endless. You could never know too much, and there is always something to learn.
Coursera Yale free course on wellbeing
Fluentu 30 Best online courses for learning foreign language for any budget
Nerd Wallet How to Write a Business Plan
Build Your Own House Advice from a contractor
Best Products These interior design apps are better than any mood board
Bob Villa 20 Easy Ways to Build Your Own Furniture
The Spruce Interior Design vs. Interior Decorating
Moms and Crafters How to Make Jewelry at Home
Origami Me The Beginner's Guide to Paper Folding
iPhone Photography School 10 Tips How to Take Great Photos with iPhone
Martha Stewart How to Knit: A Beginner's Step by Step Guide
Mother Earth News A Cheap and Easy Homemade Wine Recipe
Good Housekeeping How to Make Soap at Home from Scratch in 6 Easy Steps
The Spruce Crafts How to Make Homemade Candles for Beginners
Vegetable Fruit Carving Best Vegetable and Fruit Carving Lessons
Veena Azmanov Edible Silk Recipe
Global Sugar Art Lace Mats & Molds
                                                   Vegetables and fruit carving 
                                          How to make edible fabric video
 GET SOCIAL
     You heard me right, I said "socialize" because there is a direct correlation between socializing and levels of happiness in your body. "Interacting with others boosts feelings of well-being and decreases feelings of depression. Research has shown that one sure way of improving your mood is to work on building social connections". There is no doubt face to face socializing is nearly impossible due to social distancing act in place; however, I don't mean necessarily heading over to Facebook for all of us instantaneously to check latest updates on someones' job promotion or a new house will help. It is no secret that social media intensity has been associated with negative social consequences, such as anxiety, narcissism, and loneliness. What I mean by socializing meaning is actually communicating with someone, carrying on a two way meaningful conversation offering and seeking support to each other. 
     By socializing I also mean calling someone up on the phone, whether it is your long time friend, aunt living out of state, a grandparent. Write someone a letter by hand, or an email, sign a long owed thank you note or check in on them and express your feelings. The key is to reach out to someone and have a meaningful quality conversation that equally benefits both of you. The ideas are endless, thank god for technology, FaceTime your co-worker just to see how she and her family is doing, and if they need anything at the moment, telephone an older neighbor and check on her, start a Facebook of your own and unite people who share same views and ideas, like you do, Homeschooling Moms or Anti Social Social Club. Leadership and helping others will keep you motivated and feel ecstatic!
     Socializing with peers is super important for the kids too. My son was over the moon when my husband and I set up a playdate for him with his classmates via Zoom this week. Our next plan is to have a movie watching party utilizing NetflixParty plug in and a FaceTime based play date.
Source:
Psychology Today The Health Benefits of Socializing
HELP SOMEONE 
    "We're social creatures, who are at our bests when we're interconnected and are helping others, and that is our biggest advantage.
     As a result, evolution has instilled in us a need to belong to make sure that we continue to interact with the group we're a part of. When we're interconnected and part of a group, we actually feel far happier.
On the flip side, this need is so strong that those of us who feel lonely actually end up suffering serious health issues.
    Research has demonstrated that this triggers the same centers in the brain as food and sex. Research even indicates that when one person gives something to another person, the person who enjoys that exchange the most is not the person who received the gift, but the person who gave it." Maybe you want to contribute to COVID-19 CROWDFUNDING to feel good about yourself or even start a fund of your own helping researchers fund their efforts to combat coronavirus just like my line manufacturer and I did this week. Please support and share the link below we created to raise funds.
PPE MASKS  Go Fund Me campaign to help produce PPE masks for donation.
    Here is a nice example of how one can help. A 33 year old man, Jonny Blue who lives in Encinitas started a toilet paper exchange due to such a scarce supply of a necessary item in the stores. He set up a spot for himself in a middle of a busy road where he collected rolls of toilet tissue from some who had extra of it and gave it to others who were in need.
                      Jonny Blue from Encinitas set up a toilet paper exchange
     One more example - a group of moms from my son's school got together to brainstorming in order to find ways of producing most needed first responder and nurse masks locally at the heart of Los Angeles, Fashion District Downtown.
Resources:
Life Advancer Why Helping Others Makes You Happy, According to Science
Los Angeles Times An Unlikely hero: Surfer sets up toilet paper exchange on Encinitas street corner
CDC Foundation It Takes All of Us to Combat COVID-19
                                                           HOME 
     A clean and organized home is very important to your mental condition. A clean house can lift your spirits, and being surrounded by clutter will compromise your mood and can lead to depression. Having a clean house doesn't necessary imply scrubbing it 24/7, but rather avoiding clutter. When your home is not cluttered, it automatically looks clean in my mind, and it shortens cleaning time when it comes to it. You'd definitely enjoy living in your home and appreciate it more when it's not messy. 
     Employ the good habit of making your bed in a morning, and teach your kids the same.
     Adopt a simple rule and train yourself and family members to store away immediately objects that are no longer in use instead of leaving them scattered around the house and getting rid of a mess, as it appears instead of just leaving it there to deal with later.
     Clean your dishes and put them back on a shelf right after each meal.
     If maintaining your clean home is aggravating for one person, divide tasks among all family members, make a game out of chores around the house, utilize a rewarding and penalty system, if it helps. Make it FUN for all! Having your home clean at all times is like natural relief for depression.
Source:
Anxiety and Depression Jake's Solutions Natural Relief for Depression
FAMILY TIME. FAN THINGS TO DO TOGETHER AND ALONE
COOKING
     Nutrition has always been the number one measure in avoiding any sickness; and wholesome homemade meals provide the most nutrients. Use breaks from work, evenings, and weekends to spend time together with family members especially with your kids bonding again if you wish, just like in early days. The pace we've been living in till now has deterred many of us from spending quality time with each other, constant rushing and trying to get somewhere on time has been cutting into sharing time and doing things together.
     For instance, engage kids into making meals at the kitchen. If you think creatively and initiate an outside the box idea for a dish, they won't be able to resist helping you and will forget about their TV shows and computer games. To put a fresh twist on your daily routine adopting non typical behavior ideas will help, like playing Amazon's Top 100 Songs list while working at the kitchen or even singing aloud yourself.
     Check with your local farms for possible produce delivery. A lot of times they don't list exactly what would be in the package and surprise you with their shipping of fruits and veggies they have at the moment, that adds an element of excitement upon their shipping arrival.
     There are so many creative ideas online of what to make with children, like "Most Fun Snacks for Kids", or "Most Creative Breakfast Ideas for Kids". Below are some of the results I found:
Tastes Better From Scratch 50+ Healthy Kids Snack Ideas
Allrecipes Quick and Easy Kids' Snack Recipes
Healthline Parenthood 28 Healthy Snacks Your Kids Will Love
    Ants on the Log - Healthy Kids' Snack Idea
Play a game of a restaurant "XYZ" together (games are always popular among children), where you are a customer, and your child is a chef or a competition challenge - who can make a healthy snack faster. Kids love challenges and games! 
Peanut Butter and Veggies Healthy Kids' Snack Idea 
Peanut Butter and Apple Sandwiches Healthy Kids' Snack Idea
     Kids love to experiment and play at the kitchen. Maybe it's a good time to finally bake and try every single recipe from a cookbook your mom gave your last Christmas, or leaf through a Food Network Magazine and utilize one of their ideas at least once. Be creative and come up with something of your own or ask your kids, they are full of ideas and may pleasantly surprise you at the kitchen. Remember that time you spend doing something together would be the best thing they will remember about this quarantine. 
           My son is making rice krispies at home
READING
     Reading still remains one of the most popular activities for people of all ages.
     Reading is very beneficial for your brain and educational whether you read alone or to your kids. It stimulates your imagination and takes you places. It calms and removes stress off of your mind. It's the most affordable pleasure one can have. It's accessible and doesn't require special arrangements or prep work. It can take place anywhere any time. It doesn't require socializing yet connects all of us on many levels. It's so easy to find what to read, online, Kindle, Audible, a book on a shelf or a magazine you haven't gotten to yet. Audible is wonderful, in fact it offers a free access to books for readers of age 0 to 18 for free, no account needed. People who read always have a story to share. An interesting book is a good subject to any conversation. It inspires and can provide entertainment for the entire family. Listening to books on tape is another good form of literature appreciation. You can listen to a book on tape while cooking together at the kitchen or having dinner. It's also a good idea to wind down after a hectic day. 
Sources:
Audible Stay informed, inspired, and entertained
Read It Forward! Books We Can't Wait to Read in 2020
Epic! Digital Library for Kids of 12 & Under
Fun Brain Free educational reading books for children online
Free Library Free online library for kids
TIME 100 Children's Best Books Ever Written
TIME The 100 Must Read Books of 2019
The New Yorker Daily Updates
The Washington Post Breaking news, analysis of politics, business, world national news
                                                            PODCAST
     Podcasts are still a new form of media adopted a couple of year ago offering a wild range of topics for discussion touching on all aspects of our lives. Podcasting is an audio programming you can listen to using app on your phone or online. It's super informative and super entertaining, Listening to a podcast can help to take the edge off after a stressful day and doesn't take much time commitment, affordable and easily accessible. 
Discover Pods How to Listen to Podcasts (a guide for absolute beginners)
Good Housekeeping 30 Best Podcasts to Listen to in 2020
I Hear Radio Stream Best Podcasts Online
                                                        CULTURE
     Museum touring. Even though the quarantine is in place till the unknown future, life doesn't stop and traveling to majestic places of the world is still possible - online.
VOGUE The Place of Versailles is Offering a Free Virtual Tour
     Opera. Discover and emerge into dramatic and sophisticated world of opera. Meet the historic characters and learn about their stories and lifestyle, If you haven't already. Broaden your cultural fulfillment with free online broadcast from the world's leading opera house in Paris.
VOGUE The Paris Opera is Screening its Performance Online for Free
    Theater. There is a wealth of theatrical performance also available online, whether you are a Broadway lover or appreciate plays. With Amazon Prime and Netflix streaming services you don't have to travel to New York to enjoy show. Now you have access to them round the clock from a comfort of your own home. Check out the link below:
Broadway Direct Where to Watch Broadway Online: The Theater Lover's Guide to Streaming
     Everything fashion. Welcome to YouTube FASHION CHANNEL - your destination to all hot things plus original content to fashion shows, info, fashion models.
YouTube FASHION CHANNEL 
Fashion TV 24/7 Fashion Style, Beauty, and Trends
     Art.  "There is evidence that art-based interventions are effective in reducing adverse physiological and psychological outcomes."- Public Health
Art News The leading source of art coverage since 1902
     Music. "New research shows that even sad music can lift your mood, while other studies suggest music can boost happiness and reduce anxiety."- Health Line
NPR Music 5 Tiny Desk Concerts to Calm Your Mind
Spotify It's all the music you'll ever need
Amazon Music Unlimited Unlimited access to new releases from today's most popular artists
Classic FM Classic performance online with any browser, just click play botton
NATURE
Who doesn't like nature? Now, more than ever you'd want to watch nature while you are being cooped up at home. Nature is relaxing and lowers your pulse as well as induce the anxiety we all are experiencing right now. Luckily, being able to go online makes access easy and safe to most remote destinations. Below are my favorite source:
Nature Vision TV All Natural Relaxation Channel. Reduce Stress and Feel Great
The LA Times Watching Animals Helps. A Lot. Here are the Best Webcams
WATCH
     TV series. It is no secret that binge-watching, ever since networks like Netflix, Hulu, and Amazon Prime became available, is among the most popular time passing activities in America. With so much content and so little time it's hard to figure out what to watch, and it helps to get a recommendation depending on your taste, whether it is sci-fi or laugh out loud comedies that you enjoy!
Mental Floss The 50 Best TV Shows to Binge-watch only a click away
LA Times Entertainment The 51 Best TV Shows to Binge, while self-quarantining according to TV experts
Adult Swim Rick and Morty. Adult Cartoon series
MIND
     Puzzles. Puzzles have been my all time favorite activity. It's challenging alright, definitely fun, and what a joy to see the end result! With so many puzzle variations whether it is a board game, or solving one online, or using app on your phone, you won't resist to start solving one. It very well could be an excellent family doing that will let each one of you to exercise your best talents and unite you all.
Barnes and Noble Puzzles
Crazy Games Free online puzzle games
Life Wire 10 of the best IOS puzzle games
     Meditation. There are so many resources nowadays about how to calm your mind during these troubling times, I don't find many suggesting meditation. You don't have to be an advanced level professional in meditation to benefit from it. The whole idea of meditation is to take a break from your daily routine and RELAX your mind trying to not let negative and upsetting thoughts take place in your mind. Some compare meditation to napping during day, at least both have the same effect on your brain. Interested to try? The link below might help:
 Psychology Today 5 Meditation Tips for Beginners
KIDS
     "Sheltering in place doesn't have to be boring. We've provided a list of free (educational!) resources to keep your children entertained at home,"- Microsoft News says.
Microsoft News Parents, rejoice: we rounded up a list of educational resources to entertain your kids at home
     Sports. Children could be compared to young puppies. An under exercised dog is trouble at home, chewed shoes and couch pillows, right? Enjoy time off while taking your munchkins outdoors, a quick game of soccer, baseball, or a hike won't take much of your time, but surely will wear them out and energize you, believe it or not.
     Gardening. Kids LOOOOVE to garden! What's a more child like activity than digging the soil. In the spring there is always something to do in your yard, whether it is weeding or clearing. While gardening you could be outdoors for as long as you want especially on a weekend, where social distancing doesn't have to be exercised.
     Hiking. It's definitely the most pleasant way to get exercise, watch nature first hand, and feel united as a family. Hiking is the easiest way to get out of the house, it doesn't cost anything; yet you don't have to go far to feel like you are a taking a trip.
     Sewing, knitting, and making things. Kids love toys! They will cherish for ever toys they make themselves plus a whole process will keep them busy for ever! I'm more than sure that every household has a stash of fabric cuts, unused yarn, buttons, and stuffing material left from a project before. Good thing, no instruction needed to proceed, just use your imagination and create away!
     Cross stitching. This activity is great not only for grandmas and little girls. It's non gender, doesn't require much preparation, and keeps one engaged for a long time. The online wealth of ideas available will appeal to kids of any age.
Joanne Cross Stitch Kits for kids
Michael's Cross Stitch Kits for sale
     Board games, etc. Board games are our family go to night activity. We have so many to choose from, I'm sure you do to; just to name a few, bingo,  Blokus, chess, UNO, etc. Our newest addition is Mille Bornes, Yu Gi Oh, and Backgammon.
     Virtual Reality Games. I still can't believe it, but my husband and I agreed to having a  Nintendo Switch, partly because my son's birthday is around the corner. I ignored a new device for a couple of day till it started raining, then gave it a try. I found it very interacting and possible to enjoy for both a child and a parent. We had a game of virtual tennis, and my rusty tennis techniques were visibly improving. I played a better tennis in reality, after the rain was over.
     Drawing and coloring. These two are the oldest tricks in the book, yet they always work because drawing is calming and could be engaging for the entire family. When I draw, I am fiveand life is good again. It's a nice distraction indeed and a way to bind with your kids. Start drawing and coloring on purpose, let's say to color a book you enjoy reading right now, or suggest writing a book of your own first and illustrate it to your like. Luckily each household has endless supply of closing media and no need to run around looking for it.
     It's always more intriguing to add a little challenge to your activity, give it a little purpose or a direction so to speak. For instance, drawing a non existent character is so much more fun than just a commonly know one. Or, coloring a 3D paper creation of your own is more exciting than just going through connecting the dots project or filling in the lines.
     Baking. It's the most popular activity among children, no need to ask why. Because home baked cookie always taste better.
     Shows to watch together. I don't watch many shows with my son because I like to use his TV time as my work time, however there is one I really enjoy watching together with him. It's about design, of course -  LEGO BUILDERS, where contestants design and build figures bases on a theme assigned. Hopefully it will spark a sense of creativity and inspire you to build something extraordinary of your own with your little ones out of good old legos!
LEGO MASTERS TV show on FOX
     I also enjoy watching the nature channel with my ten year old, we often stop for discussions, to exchange our emotional impressions and exclaim thank god for modern digital technology. The quality of camera shoots available to photographers and videographers is outstanding. 
Rotten Tomatoes Best Shows to watch with your kids
Travel Zoo Amazing places you can visit without leaving your home
     Helping matters. Kids love to help as well as to serve a good purpose. You could never underestimate the excitement they experience in school while helping children from near by school to collect books, toys, clothes and food. They are excited to help their teacher in their classroom and can't wait to be called for duty. They will be excited to help you around the house, if you actually ask them for help instead of bugging them about the huge mess at home. 
     Especially now you can involve your kids' help sewing PPE masks at home. I'm providing the most popular and most comprhensive link that explain that process step by step.
 Sew a mask, Save a life  YouTube video  
     You can get most positive reaction from your children if you explain a purpose for any activity or let them initiate one on purpose. Ask them to share their opinion and ideas regarding the current COVID-19 situation, challenges we are facing and how would they approach them. You'd be surprised what kids can come up with in situations like this. They are little geniuses and to have kids rule the country for one day is not a bad idea.
     My son and I are looking to start making first responder and nurse masks at home to help nursing homes and other facilities in the area that are in need for masks.  
    "In was as in war!" after all. Stay home and be safe!
More sources:
The LA Times What to do during your coronavirus home quarantine? How about: Nothing
Round Trip 24 Things to do at home during quarantine 
Monika Boch Blog 101 Things to do at home with kids - during quarantine
The Purple Pumpkin 101 Things to do at home (if you are on pandemic lockdown)